---
DAVID TENNANT (BARTY CROUCH JUNIOR)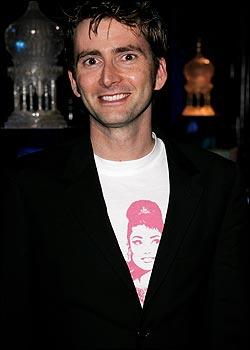 Birth name
David MacDonald
Height
6' 1" (1.85 m)
Trivia
David Tennant is a respected classical actor who has performed numerous starring roles for the Royal Shakespeare Company, including Touchstone in "As You Like It", Romeo in "Romeo and Juliet", Antipholus of Syracuse in "The Comedy of Errors" and Captain Jack Absolute in "The Rivals".
He was nominated for a 2003 Laurence Olivier Theatre Award for Best Actor of 2002 for his performance in "Lobby Hero" performed at the Donmar Warehouse and the New Ambassador's Theatres.
Attended Paisley Grammar.
Graduated from the Royal Scottish Academy of Music and Drama.
Acted with the 7:84 Theatre Company, a genre-bending, ground-breaking, political Scottish Theatre Group.
Decided to be an actor at the age of three.
Cast as "Tenth Doctor" for BBC "Doctor Who" (2005) series to star alongside Billie Piper (April 2005).
While attending Paisley Grammar School, he wrote an essay on how his greatest desire was to play Doctor Who on TV.
Best friends with Louise Delamere ("No Angels" (2004)). They went to Glasgow's Royal Scottish Academy of Music and Drama together and shared a flat.
Chose his acting surname from Neil Tennant, singer with Pet Shop Boys. This came after reading an interview with Tennant in Smash Hits shortly after learning that he would have to change his professional name in order to join the actors' union, Equity, as there was already a registered member with his real name, David McDonald.
Personal quotes
"Drama school is a pretty intense experience and I think it changes who you are. I think I grew up at drama school (which was fairly useful personally as much as professionally) and I certainly got exposed to a huge range of ideas, techniques and practices that I had no previous experience of. I wouldn't have known what I was doing as an actor if I hadn't gone."
On his early decision to become an actor: "I was very small, about 3 or 4 I think, and just wanted to be the people on telly telling these wonderful stories. Obviously the idea grew and matured with me but I can't ever remember wanting to do anything else. I've just sort of taken it for granted all my life that that was what I would do."
---
© Copyright Harry Potter Portugal Oficial Julho 2006 TODOS OS DIREITOS RESERVADOS ®™