---
DEVON MURRAY (SEAMUS FINNIGAN)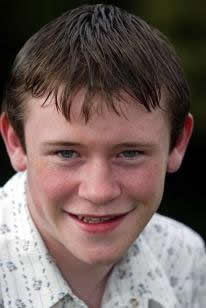 Birth name
Devon Michael Murray
Height
5' 3" (1.60 m)
Mini biography
Devon Murray was born in County Kildare, Ireland in October 1988. His parents Michael and Fidelma Murray sent him to the Billie Barry when he was six, and within two weeks he landed a Tesco television ad. Within six months he was in his first movie, acting alongside Aidan Quinn in _This is My Father (1998/I)_ . He then joined the National Performing Arts School and made his breakthrough in Angela's Ashes (1999). He also acted with Jane Seymour in Yesterday's Children (2000) (TV).

He now plays Seamus Finnigan (one of Harry's Gryffindor House friends) in the much-hyped Harry Potter series. Devon is an only child and now lives in Celbridge, County Kildare (Ireland). He has horses, and enjoys riding them, as well as rollerblading, skateboarding and playing on his computer.
Trivia
Parents are Michael and Fidelma Murray.
Has 6 horses and 3 dogs.
Was supposed to play Young Amsterdam in Gangs of New York (2002) but had to pull out due to scheduling conflicts with Harry Potter filming.
Is friends with Daniel Logan, who played Boba Fett in Star Wars: Episode II - Attack of the Clones (2002).
15th-17th April 2005 - Attended the Wellington Armaggeddon Pulp Expo Convention in New Zealand as the special Harry Potter guest.
---
© Copyright Harry Potter Portugal Oicial Julho 2006 TODOS OS DIREITOS RESERVADOS ®™