---
EVANNA LYNCH (LUNA LOVEGOOD)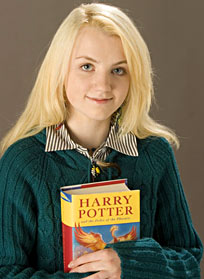 Height
5' (1.52 m)
Trivia
On January 23rd 2006, she discovered she had beaten out over 15,000 girls, from all over the United Kingdom and Eire, for the much coveted role of Luna Lovegood in Harry Potter and the Order of the Phoenix (2007).
In 2003, aged eleven years old, Evanna was disappointed that she would miss the release of the novel "Harry Potter and the Order of the Phoenix" as she had been hospitalised. However, the hospital released her for an morning on the day of the launch where a local bookstore arranged for her to receive a copy that was signed by author J.K. Rowling. On the day, Evanna was dressed in a Harry Potter t-shirt and having scrawled 'I love Harry Potter' down her arms. She had also painted her nails blue with Harry Potter written on every second nail and the golden snitch on every other one as well as sporting painted-on black Harry Potter glasses on.
She is a cat-lover who owns a cat named Luna. When Luna has kittens, she named one of them Dumbledore. Her other cat Crookshanks died in 2005.
She was a fan of the Harry Potter novels long before being cast in the films. She claims to have read the books several times.
Her father flew her to London to the open audition for the part of Luna Lovegood in Harry Potter and the Order of the Phoenix (2007). Her mother did not believe she had much of a chance of winning the role so initially refused to let her apply.
[September 2006] She is in Third Year at Our Lady's College, Greenhills, an all girls' Catholic school located in Drogheda, Ireland. During her primary school years, she attended Cartown National School.
She lives with her father Donal, mother Marguerite and elder sister Emily in Termonfeckin, County Louth, Ireland.
Personal quotes
[on her sudden fame] "It was mad. I went into school and all of my Year were at the windows and they were all waving when I came in. And then all these camera people starting coming into the school and all the other girls were outside waving and I stayed inside and they didn't notice me. I think they had dyed my hair at that point so it was different and I had to have security people."
[on why she is similar to her character Luna] "People like her because she's like a breath of fresh air because in the fifth book it gets so dark and Harry's always cross. And then every time Luna comes in all the tension goes and she makes you laugh because she's so funny and really honest. I don't know how much I'm like her, there are some similarities but I'm more determined than her."
[on why she loves the Harry Potter novels] "Sometimes I'm stressed and I'm sick of things and I need to forget about them for a while, so in Harry Potter you're taken to this wonderful imaginary world where everything is so different. But also the main characters are completely real and modern so you can relate to them."
[on her parents' feelings about her audition for the role of Luna in the Harry Potter films] "Well, my Mum didn't want me to go. She thought I didn't have a hope. And then I told my Dad and he thought I should go because he knew I really wanted it, so he brought me."
---
© Copyright Harry Potter Portugal Oficial Julho 2006 TODOS OS DIREITOS RESERVADOS ®™