---
IAN HART (QUIRINUS QUIRREL)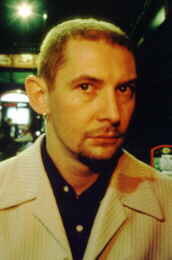 Mini biography
Ian Hart, born in England, began acting while a student in Liverpool, England, United Kingdom. He stumbled into acting almost accidentally, but was cast in the play "The Government Inspector". He continued to work in British theater and television, and first gained recognition for portraying John Lennon in the British film _Backbeat (1995)_ .

He made many films in his native Britain, occasionally appearing in American films as well. He is currently involved in the Harry Potter franchise.
Spouse
| | |
| --- | --- |
| Lynn Hart | (? - present) 2 children |
Trivia
Twice portrayed John Lennon on film, in The Hours and Times (1991) and Backbeat (1994).
Wife is a teacher, they have one daughter.
Has two daughters: Daisy, born in 1996 and Holly, born in 2001.
Resides in Crouch End, London, England. [2004]
Has twice played a lackey of Ralph Fiennes. In The End of the Affair, he plays a private etective hired by Fiennes's character to spy on Julianne Moore. In Harry Potter and the Sorcerer's Stone, he allows his body to be used as a host for the spirit of Lord Voldemort - who is played in the flesh by Fiennes, beginning with Harry Potter and the Goblet of Fire.
Has played both Sir Arthur Conan Doyle (in Finding Neverland) and one of his most famous characters from the Sherlock Holmes canon, Dr. Watson (The Hound of the Baskervilles & Sherlock Holmes and the Case of the Silk Stocking)
---
© Copyright Harry Potter Portugal Oficial Julho 2006 TODOS OS DIREITOS RESERVADOS ®™