---
JULIE WALTERS (MOLLY WEASLEY)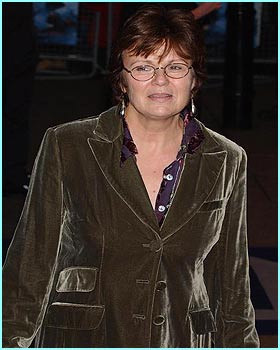 Birth name
Julia Mary Walters
Height
5' 8" (1.73 m)
Mini biography
For decades Brit actress and comedienne Julie Walters has served as a sturdy representation of the working class with her passionate, earthy portrayals on England's stage, screen and TV. A bona fide talent, her infectious spirit and self-deprecating sense of humor eventually captured the hearts of international audiences. The small and slender actress with the prominent cheekbones has yet to give an uninteresting performance.

She was born Julia Mary Walters on February 22, 1950, the youngest of three and only daughter of Irish-Catholic parents. Convent schooled in Birmingham, she expressed an early desire to act. Her iron-willed mother had other ideas, however, and geared her towards a nursing career. Dutifully applying at Queen Elizabeth Hospital in Birmingham, Julie eventually gave up nursing when the pull to be an actress proved too strong. Studying English and Drama at Manchester Polytechnic, she subsequently joined a theatre company in Liverpool and apprenticed as a stand-up comic. A one-time company member of the Vanload improv troupe, she made her London stage debut in the aptly-titled comedy "Funny Peculiar" in 1975, and went on to develop a successfully bawdy act on the cabaret circuit. While at Manchester, Julie befriended aspiring writer/comedienne Victoria Wood and the twosome appeared together in sketch comedy. A couple of their works, "Talent" and "Nearly a Happy Ending," transferred to TV and were accompanied by rave reviews. Eventually they were handed their own TV series, "Wood and Walters" (1982).

In 1980, Julie scored a huge solo success under the theatre lights when she made her London debut in Willy Russell's "Educating Rita." For her superlative performance she won both the Variety Critic's and London Critic's Circle Awards as the young hairdresser who vows to up her station in life by enrolling in a university. She conquered film as well when Educating Rita (1983) transferred to the big screen opposite Michael Caine as her Henry Higgins-like college professor, collecting a Golden Globe Award and Oscar nomination.

Reuniting with Victoria Wood in 1984, the pair continue to appear together frequently on TV, most recently with the award-winning series "Dinnerladies" (1998). On stage Julie has impressed in a variety of roles ranging from the contemporary ("Fool for Love," "Frankie and Johnny at the Clair de Lune") to the classics ("Macbeth," "The Rose Tattoo" and "All My Sons"), winning the Olivier Award for the last-mentioned play.

Following her success as Rita, she immediately rolled out a sterling succession of film femmes including her seedy waitress-turned-successful brothel-owner in Personal Services (1987); the unsophisticated, small-town wife of Phil Collins in Buster (1988); a boozy, man-chasing mum in Killing Dad or How to Love Your Mother (1989); and Liza Minnelli's abrasive tap student in Stepping Out (1991). Playing a wide variety of ages, she also mustered up a very convincing role as the mother of Joe Orton in the critically-acclaimed Prick Up Your Ears (1987). She capped her career in films as the abrasively stern but encouraging dance teacher in Billy Elliot (2000) which earned her a second Oscar nod and a healthy helping of quirky character parts, including her charming, charity-driven widow who poses à la natural in Calendar Girls (2003), and the maternal witch-wife Molly Weasley in the J.K. Rowling "Harry Potter" series. For her work on film and TV, the British Academy of Film and Television Arts has honored Julie five times, including four awards in a row (2001-2004).

Married to Grant Roffey since 1997 after a 12-year relationship, the couple tend to a 70-acre organic farm they bought in Sussex. They have one child. Julie was honored with an OBE for her services to drama in 1999. A biography was published in 2003 entitled "Julie Walters: Seriously Funny."
Spouse
| | |
| --- | --- |
| Grant Roffey | (1997 - present) 1 child |
Trivia
One daughter, Maisie
Born at 3:00pm-BST
She ranked first in the 2001 Orange Film Survey of Greatest British Films actresses.
Appointed an OBE (Officer of the Order of the British Empire) for services to drama on 2 December 1999.
She was awarded the Laurence Olivier Theatre Award in 2001 (2001 season) for Best Actress for her performance in All My Sons at the Royal National Theatre, Cottesloe.
Julie's strong-minded mother, who wished a nursing career for her daughter, was openly upset by Julie's switch of professions to acting. When her mother died in 1989, Walters found among her possessions a box stuffed with newspaper clippings that had recorded Julie's many successes.
Julie's child Maisie was stricken with leukemia at the age of two. The girl miraculously recovered and inspired Walters to write the book "Baby Talk" in 1990.
Julie's own birth was complicated, the umbilical cord was wrapped round her neck and a priest was actually called to give both mother and baby the Last Rites. Miraculously she managed to wrest herself free of the cord and survived.
A former boyfriend of Julie's noticed her acting ability and encouraged her to pursue an acting career. He later proposed marriage to her but she turned him down, having finally discovered her vocation in life and realising that marriage at that point would have held her back
Personal quotes
"When I think of the future, I think of doing my washing so I've something to wear tomorrow."
"Self worth is everything. Without it life is a misery."
It's bloody great to get to fifty-five. I've never been bothered about people knowing how old I am.
I was asked about doing a nude shoot for men's magazine GQ. I thought it was the funniest thing I'd ever heard.
---
© Copyright Harry Potter Portugal Oficial Julho 2006 TODOS OS DIREITOS RESERVADOS ®™