---
KATIE LEUNG (CHO CHANG)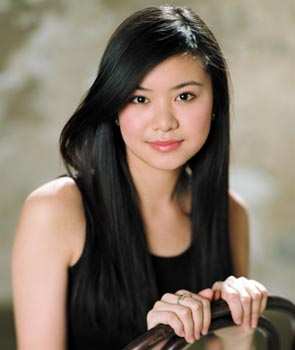 Birth name
Katie Liu Leung
Nickname
Katt
Height
5' 4½" (1.64 m)
Mini biography
Katie Liu Leung was born in Scotland to Peter and Kar Wai Li Leung, who are now divorced. She lives at home with her father, two brothers and one sister. She is currently attending one of Scotland's most prestigious private schools, Hamilton College.

Katie's father saw an advertisement for a casting call and suggested Katie try out. Katie objected when she saw the length of the line at the casting auditions and said she'd rather go shopping. She waited for a total of 4 hours before she got in. The audition for her only took 5 minutes and the next two weeks, she got called in for a workshop and from then on, she got the part as Cho Chang.
Trivia
Beat out over 3,000 girls to make her debut as 'Cho Chang' in 'Harry Potter and the Goblet of Fire.'
Parents are Kar Wai Li & Peter Leung (divorced)
Attended Hamilton College, a prestigious £5000-a-year private school in located in Hamilton, Scotland. Since finishing school in May 2005, Katie wants to either study art at university or embark on an acting career.
Author J.K. Rowling insisted that the actress to play Cho had to be a complete unknown.
According to her father, she had never been in a school play and went for the audition "on a whim"..
Her dad runs a successful restaurant in Glasgow & a thriving Chinese food wholesale business
Lives in a £400,000 house
Lives with her father, two brothers and a sister in an exclusive district of Motherwell, Scotland.
She achieved pass results in English, maths, chemistry, biology and art in her Highers (Scottish high school exams).
Can speak Cantonese (Chinese dialect)
Parents are originally from Hong Kong
[September 2005] She plans to defer going to university so she can continue to play Cho Chang in the 'Harry Potter' films.
Has two brothers (one named Jonathan) and a younger sister (Violet)
Values her brother, Jonathan's, opinions most
If she could be given any magical power, Katie says she would like to be able to read boys' minds.
Her favorite Chinese actors are Aaron Kwok and Stephen Chow
Personal quotes
[on acting] "I wouldn't want to be in a film because I'm Asian. I want to get respect as an actress."
[on hate sites regarding her and her role in Harry Potter] "This kind of stuff is inevitable because Dan has so many female fans - millions of them - so I'm nor surprised some of them don't like me. But I don't think it's all based on jealousy. I'm not going to satisfy everyone's preconceptions of Cho."
[on playing Cho] "If this turns out to be my only film then I think it would be pretty cool to be known as Harry Potter's first crush."
"During the scene of the Yule Ball, the ground was very slippery and I was wearing high heels and I slipped but good thing I grabbed onto Robert so I didn't fall and good thing the cameras weren't where we were yet. Oh, that was so embarrassing!"
"I always had a problem with shyness at school and would never stick my hand up in class if I was stuck at something. I didn't want to be the center of attention, all those eyes looking at me would have made me really nervous. I guess actresses use that adrenalin and it makes them do it better. Does that sound really stupid?"
---
© Copyright Harry Potter Portugal Oficial Julho 2006 TODOS OS DIREITOS RESERVADOS ®™