---
MIRIAM MARGOLYES (POMONA SPROUT)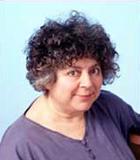 Height
5' (1.52 m)
Mini biography
A veteran of stage and screen, award-winning actress Miriam Margolyes has achieved success on both sides of the Atlantic. Winner of the BAFTA Best Supporting Actress award in 1993 for The Age of Innocence (1993) she also received Best Supporting Actress at the 1989 LA Critics Circle Awards for her role in Little Dorrit (1988) and a Sony Radio Award for Best Actress on "Radio" in 1993. She was the voice of Fly the dog in Babe (1995).

Major credits during her long and celebrated career include Yentl (1983), Little Shop of Horrors (1986), I Love You to Death (1990), End of Days (1999), Sunshine (1999), Cold Comfort Farm (1995) (TV), Cats & Dogs (2001), Magnolia (1999) and she was Prof. Sprout in Harry Potter and the Chamber of Secrets (2002).

Most recently Margolyes appeared in Stephen Hopkins' The Life and Death of Peter Sellers (2004), Modigliani (2004), István Szabó's Being Julia (2004) and Ladies in Lavender. (2004) (with Dames Maggie Smith and Judi Dench), which is opening at the NY Tribeca Festival on April 23rd.

Most memorable TV credits include Old Flames (1990) (TV), "Freud" (1984) (mini), "The Life and Loves of a She-Devil" (1986) (mini), "The Black Adder" (1983), The Girls of Slender Means (1975) (TV), Oliver Twist (1982) (TV), The History Man (1981) (TV), Vanity Fair (2004) , Supply & Demand (1997) (TV). She was Franny in the CBS sitcom "Frannie's Turn" (1992) and starred recently in the Miss Marple episode, "Murder at the Vicarage".

Stage credits include "The Vagina Monologues", Sir Peter Hall's Los Angeles production of "Romeo & Juliet", "She Stoops to Conquer" and "Orpheus Descending" (all for Sir Peter Hall), "The Killing of Sister George", "The Threepenny Opera" (Tony Richardson), Michael Lindsay-Hogg's "The White Devil" at The Old Vic, the Bristol Old Vic production of "The Canterbury Tales" and her own award-winning, one-woman show, "Dickens' Woman". In 2002, H.M. The Queen awarded her the Order of the British Empire for her services to Drama.
Trivia
She was awarded O.B.E. (Officer of the Order of the British Empire) on 30 December 2001.
Works and has homes in the US, UK and Australia.
Is of Belarusian descent
In the Independent on Sunday [UK] 2006 Pink List - a list of the most influential gay men and women - Margolyes came no. 93, down from last year's no. 29.
Personal quotes
"I'm not the sort of woman men boast of having slept with."
---
© Copyright Harry Potter Portugal Oficial Julho 2006 TODOS OS DIREITOS RESERVADOS ®™