---
TIMOTHY SPALL (PETER PETTIGREW)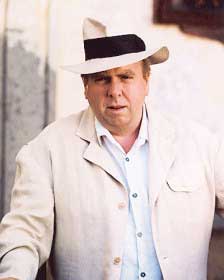 Birth name
Timothy Leonard Spall
Height
5' 7" (1.70 m)
Mini biography
Best known for his grimy, boorish, highly dysfunctional, often repugnant blue-collars particularly in Mike Leigh films, actor Timothy Spall was the son of a postal worker and a hairdresser. Raised in London, he auditioned and earned a spot with the National Youth Theatre and later showed great promise at RADA where he portrayed the title roles in "Macbeth" and "Othello." In 1979 he joined the Royal Shakespeare Company and stayed for approximately two years performing in "The Merry Wives of Windsor," "Cymbeline," "The Three Sisters" and "Nicholas Nickleby." In the early 80s he moved into TV roles with Leigh's "Home Sweet Home" and later had his own drama series "Frank Stubbs Promotes" in 1993. With Leigh, Timothy's appeared in a number of award-winning features, particularly Life Is Sweet (1990) and Secrets & Lies (1996), for which he earned a BAFTA Award nomination, and the Gilbert & Sullivan biopic Topsy-Turvy (1999). He also worked for noted directors Ken Russell in Gothic (1986), Clint Eastwood in White Hunter Black Heart (1990), Bernardo Bertolucci in The Sheltering Sky (1990), and Kenneth Branagh in Hamlet (1996) as Rosenkrantz. A chronic illness curtailed his momentum in the mid-90s, coming back resourcefully on stage and TV. On a roll recently with more of his odd characterizations he lent his voice to the popular animated feature Chicken Run (2000) and appeared in Harry Potter and the Prisoner of Azkaban (2004) as Peter Pettigrew, and Lemony Snicket's A Series of Unfortunate Events (2004) as Mr. Poe.
Spouse
| | |
| --- | --- |
| Shane | (1981 - present) 3 children |
Trivia
Was named an Officer of the Order of British Empire (OBE) by Her Majesty Queen Elizabeth II on New Year's Eve, 1999
He was diagnosed with leukaemia in 1996 but is now recovered.
Three children: Pascale (born 1976), Rafe Spall (born 1983) and Mercedes (born 1985).
He and Harry Potter and the Prisoner of Azkaban (2004) co-star Gary Oldman have both played the character of Rosencrantz: Oldman in Rosencrantz & Guildenstern Are Dead (1990) and Spall in Kenneth Branagh's Hamlet (1996).
Became an Associate Member of RADA.
Graduated from RADA.
Personal quotes
On his battle with leukemia: "I didn't know what made me ill but stress had something to do with it and the point is now to head off stress at the pass. It made me aware of things and become more selective. I am less worried about employment. I really do my homework so I am not getting stressed on the set because I don't know what I'm doing."
---
© Copyright Harry Potter Portugal Oficial Julho 2006 TODOS OS DIREITOS RESERVADOS ®™